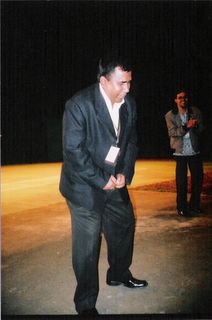 Prof. Nasarullah
He had come over from Rajshahi University, Bangladesh to aid Dr.Mizan and as Reza bhai put it, "another masterpiece who had graduated from Dhaka University". He was a wonderful human being and did not loose any opportunity to make people laugh. His performances on one of the cultural nights led to a 'laughter riot'...Sang two of his original compositions...
Ami to beeay kori nee, beeay amake koreche
( I did not do anything to marriage, it has done few things to me) and
Manush ek din bandor chilo, jodi bishas na hoi to aamake dakho
( Man was once a monkey, look at me if you have doubts)...And all this together with some phenomenal dancing. Truly a masterpiece...